TrustID
High Levels of Confidence for a Multitude of Identity Checks
Based in the UK, TrustID is a digital identity verification specialist with extensive experience in Right to Work (RTW), Right to Rent (RTR), Disclosure and Barring Service (DBS), Know Your Customer (KYC), and Anti-Money Laundering (AML), Politically Exposed Persons (PEP) and sanction checks. The company began by providing on-location physical document scanners and now provides a broad range of cloud-based and digital verification services.
As well as ISO27001 and Cyber Essentials certifications, TrustID is also a certified Identity Service Provider (IDSP) recognised by the UK Government under the Digital Identity and Attributes Trust Framework (DIATF), soon to be legally established in the UK through the Digital Verification Service (DVS). Using Inverid ReadID NFC technology they can perform checks at the highest security assurance levels for their varied client base.
Adding further to TrustID's identity verification prowess is that the company is a founding member of the Association of Document Validation Professionals, of which TrustID CEO Tony Machin is the current chairman. Using a combination of NFC chip reading, optical verification and human document experts, TrustID's solution is highly configurable and can be adapted for various levels of counterfraud assurance. Customers include NHS, large recruitment agencies such as Hays, Metropolitan Police, and many of the UK's leading hospitality brands.
The Challenge
TrustID initially provided identity verification services which were designed for face-to-face identity checks, using physical document scanners. However, as their customer base evolved, they saw an increased demand for additional services, including eligibility checks to support Right to Work and Right to Rent checks. What's more, with an ever-growing demand for remote onboarding, deploying scanners across multiple sites was no longer financially or logistically viable for many organisations. So TrustID developed cloud-based verification services, accessible through smartphone and tablet devices, which facilitate remote verification and more recently, support digital identity Scheme checks.
Today TrustID is certified to support digital Right to Work and Right to Rent checks as well as digital identity verification for DBS checks which require a High Level of Confidence check to be carried out. To facilitate that higher level of check, TrustID needed to find a remote NFC verification provider and this search led to ReadID.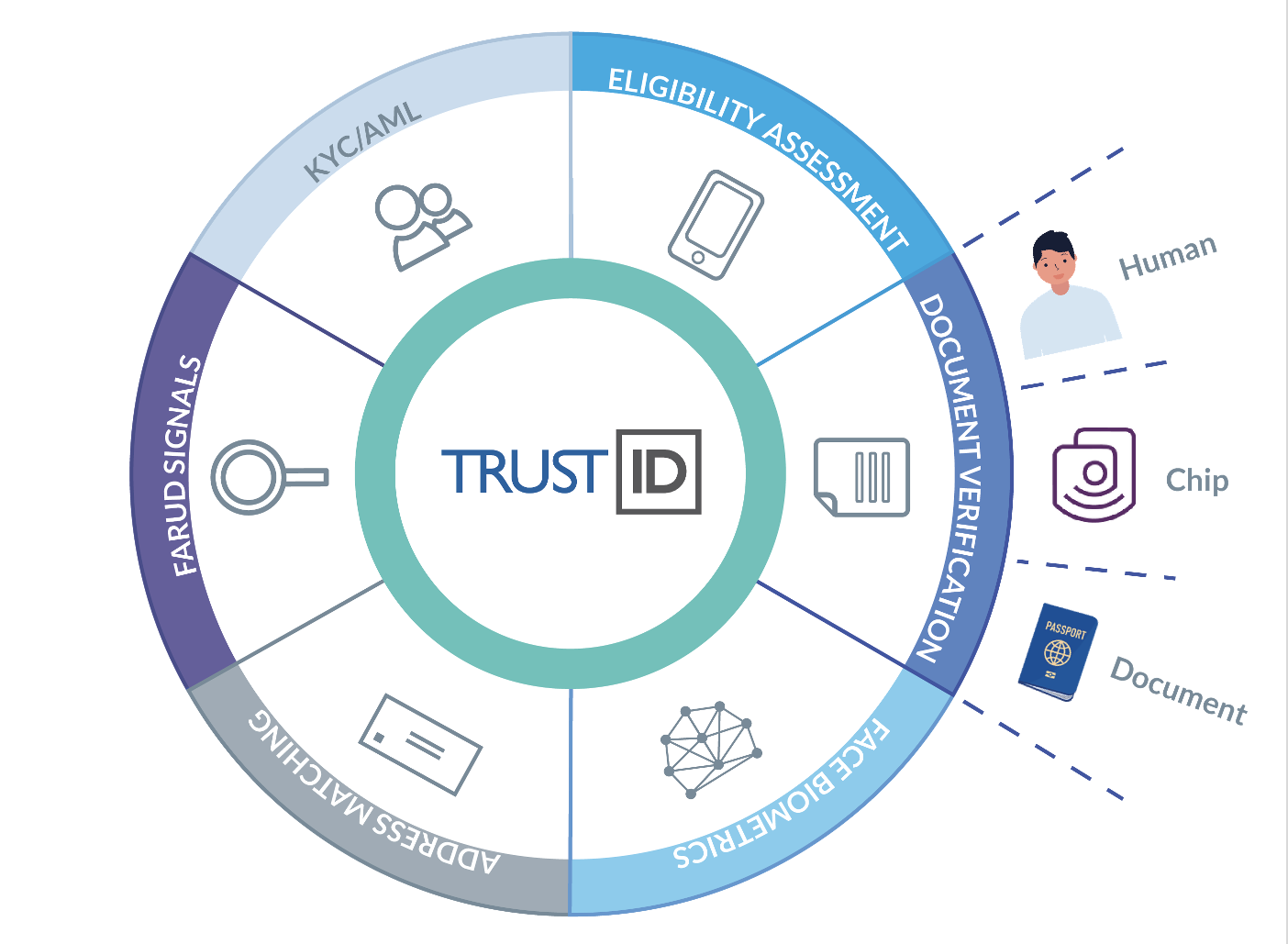 The Solution
TrustID needed an NFC chip reading service which was easy to integrate into their own system, could provide unparalleled security, and was highly credible to meet the government standards. Thanks to Inverid's previous involvement with the Home Office for the EU Settlement Scheme, TrustID was confident that the ReadID SaaS solution was the right NFC technology for them. Inverid's unique security certification package also gave TrustID and their customers complete assurance fit for the highest confidence level checks.
"If you need a high level of confidence for a check, chip opening is the most robust, fastest, and easiest to use for end customers." - Tony Machin, CEO of TrustID
Aside from NFC chip reading, TrustID's solution is highly configurable to suit the wide range of needs their customers have. They combine NFC with OCR technology, human document experts, facial biometrics, eligibility assessments, address matching, and overlaying KYC/AML data such as sanctions with their identity checks to provide a robust solution for their over 2350 clients.
The Results
ReadID Ready was ideal for TrustID as they could brand the ready-made app to their specifications and quickly and easily integrate it into their own systems. NFC is the simplest, easiest, and most secure way for TrustID to undertake High Level of Confidence checks as part of Digital Scheme verification and also offer the most robust counterfraud checks to their customers. While OCR may be suitable for medium assurance levels, "there is no doubt about it; if you need a high level of confidence for a check, chip opening is the most robust, fastest, and easiest to use for end customers" according to TrustID CEO Tony Machin.
To learn more about TrustID and how to select the right identity verification provider for your business, watch our webinar, hosted by Inverid co-founders Wil Janssen and Maarten Wegdam, and TrustID CEO Tony Machin.