Currently (September 2022), 164 countries have passports with a contactless (NFC) chip — also called ePassports or biometric passports — which means that those passports can be read with ReadID.
This number has grown continuously since their introduction in the eighties, making the adoption of ePassports almost universal. For example, Honduras, Zimbabwe, and Nepal recently introduced them in their countries.
Many countries also have identity cards and residence cards with the same ICAO-compliant chip. Please check our blogs on European identity cards and residence permits for more details.
ePassports
Although passports are required to follow the UN's International Civil Aviation Organization (ICAO) standard, countries have some choices as to which part of this standard they implement. In 2016 there was an important deadline: newly issued passports must be so-called Machine-Readable Travel Documents (MRTD).
It meant that they must have two lines at the bottom of the first page, including the holder's name, date of expiry, date of birth, and issuing country. The chip, however, is not yet a mandatory part of the ICAO standard. Of course, many countries have been including the chip for many years already, to improve the trustworthiness of their passports. It also allows their citizens to use e-gates at airports. In the EU, the chip has been mandatory since 2004.
What countries?
To the best of our knowledge, there is no good public overview of what countries have identity documents with ICAO-compliant chips, and certainly not with the specific features (for example, what cloning mechanism) of those chips in the different generations of identity documents. The overviews of what countries have ePassports we did find often contain mistakes. For some regions it is simple: all EU countries must have ePassports. But for some, the information wasn't so readily available.
So we have started collecting this data ourselves, leveraging ReadID Analytics' anonymous data logging service. We collect data on which identity documents have chips, the features of those chips and whether or not ReadID can successfully verify them. We log the data from our free personal use app ReadID Me and our live SaaS deployments, without any personal data, of course.
Based on our study, we know there were 164 countries and regions issuing ePassports by September 2022. This was more than 2.5 times as much as at the end of 2008. ReadID has a large default list of country signing certificates to verify the authenticity of most of the ePassports. This default list enables ReadID to verify passports from 109 countries (66% of all countries with ePassports), including all EU countries. Our default list misses some country signing certificates because some countries do not publish them. Please be aware there are workarounds, customers can contact our support department for details.
ReadID Worldwide Ordinary Passport Overview
In the map below we plotted ReadID's coverage for passports, focusing on 'ordinary' passports (as opposed to, for example, diplomatic passports). Ordinary passports make up the vast majority of passports. We have specified the following categories:
Read & verify (Dark green): ReadID can read and verify the passports. We have all the needed country-signing certificates by default.
Read & partially verify (Middle green): ReadID can read the passports, but the default country signing certificate list is incomplete.
Read-only (Light green): ReadID can read the passports, but we do not have the required country signing certificates for verification.
No chip (Light grey): passports have no contactless chip.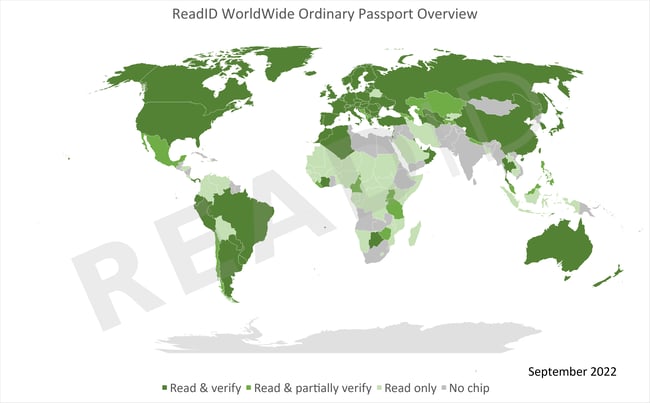 India announced to start issuing ordinary passports with chips at the end of 2022, but at the time of writing, we have not encountered them yet.
More details
If you'd like access to a list of countries and some more details, then we have a summary available that you can download here. We also have a more detailed whitepaper, for our customers and partners .
How did we plot these maps?
The maps above were generated by combining data from public and non-public sources, our own testing, and ReadID Analytics data that has was collected until 31 September 2022.
Please also check our blog post on ReadID coverage of European ID cards, residence permits, and cloning detection mechanisms. Finally, if you've spotted any mistake (it can be an error in how we generate the map or in the underlying data), then please contact us at documents@inverid.com.
Questions?
Do you want to know the possibilities in your country, or do you have questions about this blog?
Please contact us info@inverid.com or use our contact form