Eurostar
Seamless Travel for Eurostar Passengers
High-speed rail operator, Eurostar, is preparing for the future with a trial project funded by Innovate UK Department of Transportation in partnership with Entrust and the prime project partner, iProov, supported by ReadID. It shows what seamless travel can look like.
Challenge of International Travel
International travel is all but seamless in most cases. Not only at airports but also for any maritime, land or rail border crossings. For Eurostar, connecting London, UK with continental Europe by rail extensive checks are needed.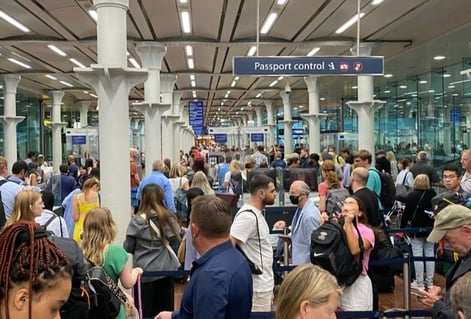 The future of travel should be different, however. Travellers expect a seamless, even touchless experience, with limited contact points but retaining high security. To pilot how this might work in practice, Eurostar trialled the use of biometrics for customers checking in for travel at its St Pancras International hub in London, UK.
The solution, SmartCheck
The solution, called SmartCheck was tested at the end of 2021, running into 2022. SmartCheck enables passengers to complete secure ticket verification and a UK Border exit check on their mobile devices prior to travel. As a core component of the pilot, ReadID's NFC Identity Card and Passport verification solution allow, Business Premier and Carte Blanche ticket holders to verify their identity documentation using their iOS or Android smartphone and their Passport before arriving at the station, completing a brief biometric face scan to verify that they are the genuine holder of that identity document. The biometric face verification is then linked to their e-ticket, with confirmation sent to the passenger.
Figure: the architecture of the SmartCheck solution (source: Entrust/Worldreach)

For the purpose of the pilot on arrival at St Pancras International station, passengers proceeded through a dedicated SmartCheck lane. A brief automated photo and facial recognition process at the ticket gate verifies that the customer has completed their ticket check, with no sharing of paper or electronic tickets required. A second face recognition process at the UK Border Exit Check allows Eurostar to verify that the passenger has completed their passport information, again replacing the need for travellers to hand over documentation.
"86% of users interviewed would opt for the SmartCheck solution in the future" iProov Pilot Survey
For the pilot Eurostar collaborated with iProov for face verification and Inverid's travel industry partner Entrust, using ReadID technology to read and verify the identity documents.
Mobile Self-service Technology
According to iProov, the feedback was very positive, with many passengers commenting that they can see how much simpler the ticket transaction process can be from their living rooms. As a result, 86% of users interviewed stated it was likely they would opt for SmartCheck in the future.
Cases such as the Eurostar trial show that it is entirely possible to use mobile self-service technology and processes in secure and seamless travel using existing, technology. Increased automation for the majority of travellers, especially when it provides intelligence information in advance of travel, allows border control officers the ability to focus on higher-risk individuals. Likewise, carriers and port/terminal operators such as Eurostar can focus their customer service efforts to provide assistance to the small minority of passengers for whom automation is not the best solution.