Our UX Specialist Kristina Katkuté defines User Experience as "a broad term that encompasses all components or aspects that end-users have with a digital product or service." Here at Inverid, our UX/UI team thinks of digital products as an orchestra, where all parts must work in sync to make beautiful music. The backend, frontend, and User Experience teams must all work together to create the most productive experience possible for end-users interacting with our product. UX itself is made up of several different areas, including product testing with end-users, statistical analysis, A/B testing, user interface (UI) design, and much more.
With this wide range of variables in mind, let's dive into why UX is important for both providers and users. We asked Kristina Katkuté, our UX Specialist here at Inverid, to give us her insight.
---
Why is UX important?
Although a product can be good from a backend and technological perspective, users won't be interacting with it successfully if the interface is not adjusted to their needs and understandable to the intended audience. UX is an essential component in creating any kind of software or digital product, as is the syncing of UX with development, support, and marketing teams. At Inverid we share Kristina's belief that the syncing of UX with other teams is vital to a successful strategy. This way end users have a seamless and enjoyable experience with the end product and teams work together more effectively to deliver this.
With this in mind, the Inverid UX/UI team is integrated with SDK, Security, Server, and Apps teams for an approach that ensures all involved are aligned in their mindset and goals. This creates a more collaborative environment, leading to improved results when changes are made to ReadID as all teams operate together to find the best solution.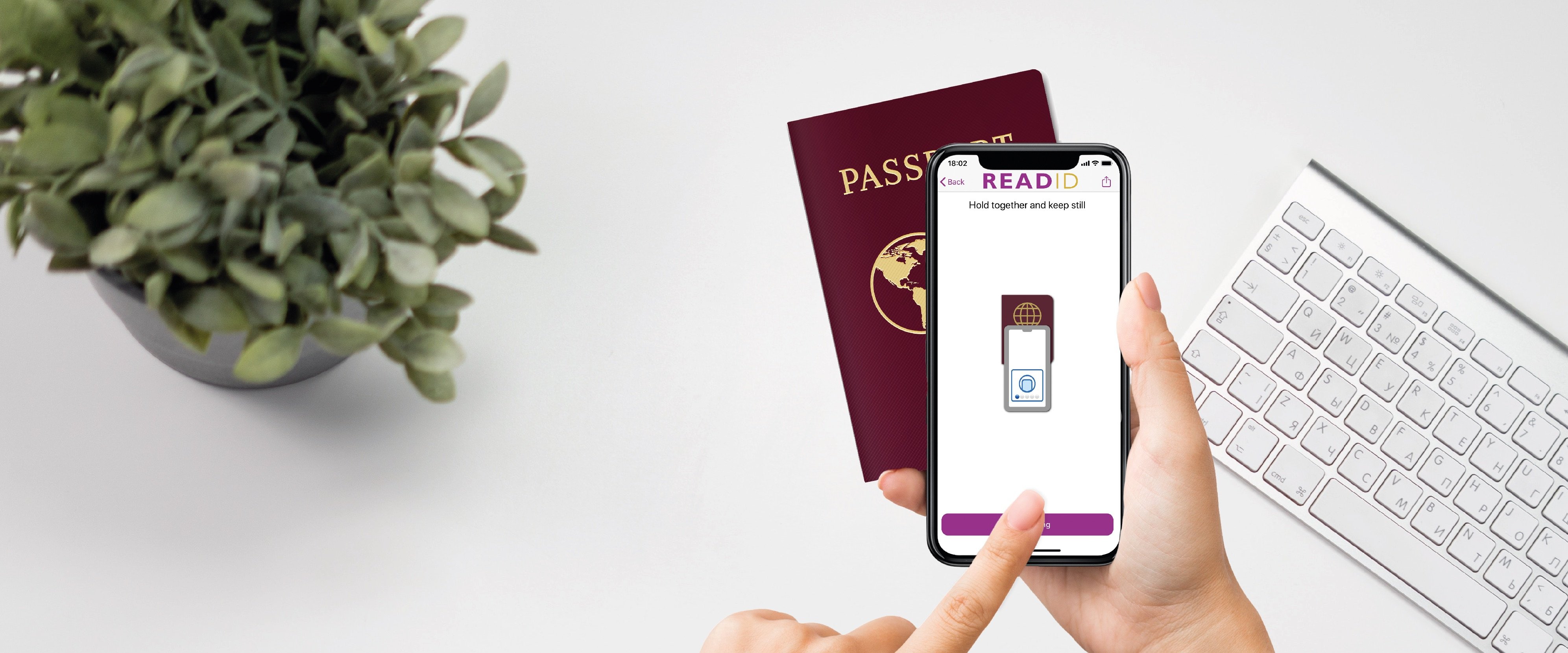 Why is UX important in the context of ReadID?
UX is very important in the context of ReadID when considering that its potential user base is anyone with access to a smartphone. This includes all kinds of age groups, technological abilities, and potential disabilities that must be taken into account when designing ReadID's apps and SDKs.
"UX is really important in ReadID's case because of the wide variety of technical abilities in our user base. Using NFC can have a high learning curve in this context, especially with elderly users, who may not be familiar with it as younger generations are, for example in the form of contactless payments." Says Kristina. UX is crucial, because it looks into aspects like this that may make the user flow (the user's use of the digital product from start to finish) difficult for different groups, and allows Inverid to make changes that make the flow more intuitive and informative.
In line with this effort toward an intuitive user flow, it is important that ReadID technology is usable for all. Therefore, Inverid is WCAG (Web Content Accessibility Guidelines) 2.1 compliant to level A and AA. This certification applies to mobile apps, despite the 'web' in the name. Users with visual, auditory, or movement-affecting disabilities can use ReadID products effectively thanks to the work of Inverid's UX team. All of Inverid's certifications are available to view here.
How does Inverid's UX/UI team
determine ReadID best practices?
When customers want to integrate the ReadID SDKs into their own applications, they are recommended best practices based on research by the Inverid UX team to create the most effective and enjoyable user experience. This research is carried out in two methodologies: quantitively and qualitatively.
Quantitative research is carried out with our in-house data analysis tooling ReadID Analytics, which stores anonymous metadata about user transactions with ReadID for analysis and comparison. Here the UX/UI team studies conversion and other metrics to monitor the performance of UX and UI changes.
The Inverid UX/UI team also undertakes extensive qualitative user testing in-house. The team sits with actual users to view their experiences in real-time interactions with the product, hear their opinions, and ask questions about the user flow of ReadID. This gives the UX team real-life context of how different people use ReadID, and helps to inform changes made to the product.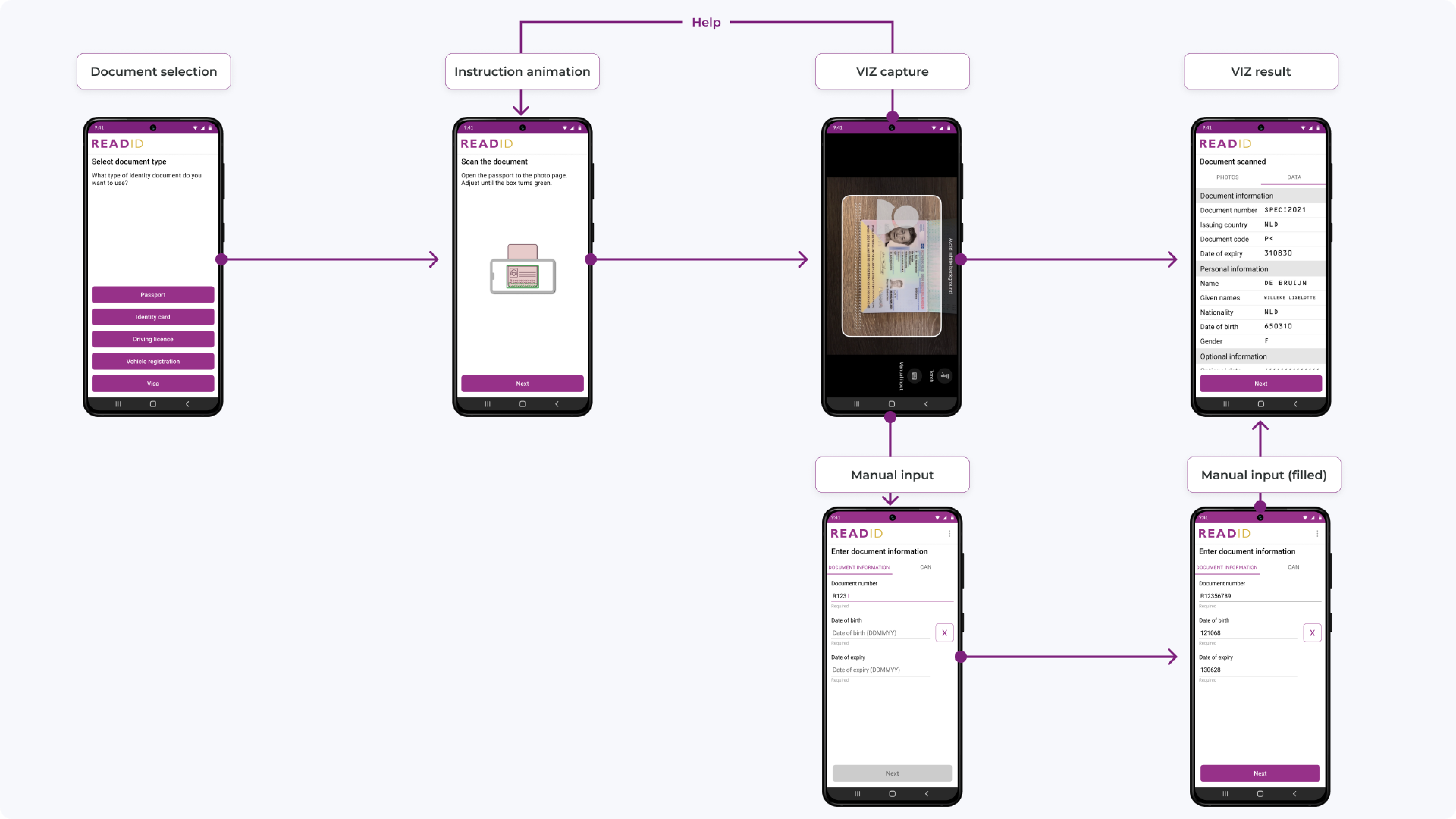 How do we track the impact of UX?
The UX/UI teams use our in-house data analysis tooling ReadID Analytics to measure anonymous metadata gathered from customer and personal app NFC transactions. This helps teams to measure the performance of different software versions, devices, locations, documents, user groups and more. This helps to inform changes made to ReadID, including in UX/UI.
At Inverid, our ReadID software has been proven to work with over 2600 different models of smartphones and has recorded conversion rates of over 96%. We know this thanks to ReadID Analytics and the anonymous metadata it collects. There are significant differences in the brands of smartphones used in different countries, which includes differentiation in models. The rising inclusion of folding phones in yearly product line-ups leads to new challenges for the UX/UI teams, for example. Kristina and her team can use ReadID Analytics to monitor the performance of their changes on these devices. Furthermore, ReadID's metadata provides useful insight into the location of NFC tags in documents and antennae in smartphone models, leading to the development of dynamic animations that play based on the model of the smartphone used.
Outside of ReadID Analytics, Kristina has observed a definite increase in positive feedback from both customers in formal channels and end-users on the App and Play Stores. Customers report high satisfaction with the amount of customisation options for the ReadID SDKs, and new options are being added all the time by the UX/UI team. This allows our customers the ability to tailor the ReadID SDK to their own brand style guidelines and create a dynamic user flow that suits their use case and increases conversion.
About our UX expert Kristina Katkuté

Kristina Katkuté has a bachelor's degree in psychology, leading her to pursue a master's degree in cognitive psychology with a focus on human-computer interaction. Kristina then discovered the field of UX, and loved how intertwined it is with psychology, and how it is possible to adapt mental models and cognitive biases of users to digital products and their design. For example, the combination of user behaviour and statistical analysis can lead to innovative design decisions that might not be obvious at first glance. Kristina particularly enjoys UX in the context of ReadID, a software solution that is used by millions of people around the world every day, and the challenges that presents in creating an enjoyable user experience. To learn more about UX from Kristina, click here to watch her Tech Session on 'User Experience and Usability'.
To learn more about UX from Kristina, watch her mini masterclass on 'User Experience and Usability'
Watch now