Aegon
Easier Re-verifying Client Identities
One of the world's leading financial service providers, Aegon, was looking to cement their financial security and extend their online services. A recurring issue was re-verifying existing clients, which required face-to-face meetings and inconvenient paperwork. In an unprecedented six-week time frame, Aegon's Bank Online Team expertly led the roll-out of ReadID Ready app.
Rianne Rolsma, Product Owner Aegon, joined our webinar to talk about the Speed of implementation
Top-Notch Mobile-First Financial Security
Aegon is one of the world's leading providers of life insurances, pensions, and asset management. They help people achieve a lifetime of financial security. As an online bank, they are constantly looking to optimise digital channels for their clients. With their 'My Aegon' account, clients can easily access their profile details for online banking. To strengthen financial security, Aegon required a new digital solution to remotely re-KYC their existing clients. The Bank Online team, responsible for the My Aegon personal banking environment, took care of the implementation of this reverification process.

As an online-oriented banking department, Aegon did not have a physical location where they could meet their clients. Yet they regularly needed to re-verify their clients' identities. To keep up with consumer demand for a mobile-first approach, Aegon's Bank Online Team was faced with a three-in-one problem: create a user-friendly, straightforward app that is also reliable and secure, and pull this off within a narrow time frame. They also needed a suitable way to guide their clients through the new process.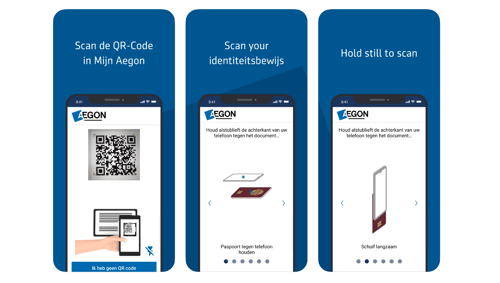 With a team of eight people, Rianne Rolsma, Product Owner for the Bank Online Team, first mapped the client flow. She also included three developers in the team to manage the back-end integration.
To make the app as user-friendly as possible and less sensitive to error, they sought an alternative to manual entry. Rolsma knew that Optical Character Recognition technology alone isn't 100% reliable. By NFC-scanning chipped identity documents, however, Aegon would have direct access to officially approved information.
ReadID's NFC-based identity verification technology was perfect for Aegon. In conjunction with ReadID's team, they chose to directly implement the ReadID Ready app. This would save heaps of time and costs
"We needed reliable, proven technology. Using the NFC solution is much more reliable than OCR."
ReadID's Ready app had all the functionalities Aegon needed. It was easy to use for both clients and Aegon staff. It only needed some customising, with Aegon's brand identity logos, shapes, colours, and fonts.
Within just six weeks, Aegon could offer their clients a tried and tested app. The kick-off sessions together with ReadID's people, UX work, app architecture and development gave it a jump start. Everyone on board was giving it their utmost to make the deadline, and work towards the common goal.
In less than two months, the first clients were led through the client flow.
Since the ReadID Ready app had all the functions Aegon needed, they quickly adopted it and altered it to their brand identity's look and feel. Because it is fully on-brand and presented as Aegon's own app in both the iStore and on Google Play, end users will not even know it is a third-party app and have no second thoughts about installing it.
In less than two months, the first clients were led through the client flow. Struggling clients could phone Aegon for help, and their feedback was used to further improve client flow. When people logged on, they received a prompt asking them to re-verify themselves, with a step-by-step walk-through telling them how. Others were sent a letter through the post.
One side effect of the new work flow is the increased conversion rate. A considerable 60% to 70% of the people now finish the flow.
In short, Aegon's app development process was lightning-fast, easy as pie and made for happier clients as well as employees on Aegon's side. A major success!