Partnership advances platforms' abilities to verify a range of documents and data for more seamless identity verification processes.
Veriff, a global identity verification provider, announced 6 June at Money 20/20 Europe its partnership with Inverid, the first Near Field Communication (NFC)-based mobile identity verification technology, to bolster both companies' existing identity verification offerings. The partnership expands the verification capabilities of both companies.
Inverid's ReadID's identity verification solution verifies identities through government-issued identity documents with contactless NFC chips and NFC-enabled smartphones. With Veriff's identity verification solution, Inverid can now read data and confirm the identities of users who do not have biometric (chipped) identity documents or a smartphone available, expanding their user base.
"At Inverid we follow an NFC-first approach to identity verification. But not all countries and users have biometric identity documents or a smartphone," according to Maarten Wegdam, Inverid's CEO. "For these use cases, we needed an alternative verification solution to partner with. While the optical identity verification solution market is crowded, Veriff has proven to be one of the best in the industry and a high-quality and reliable partner to complement NFC. We're looking forward to our continued collaboration on future identity verification projects."
With Veriff's AI-powered ID verification solution uses our VIZ capture, the photo of the data page. Veriff's technology then detects whether it's a driver's license, passport, residence permit, or standard ID, making the experience seamless. By supporting over 11,000 government-issued IDs from more than 230 countries and territories, Veriff offers an alternative option for those who are unable to present a biometric ID.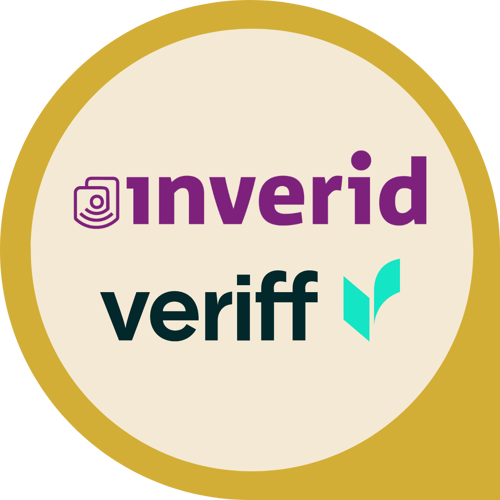 "We're thrilled to be partnering with Inverid in our shared mission of reducing identity fraud and creating safer online spaces."
Janer Gorohhov
co-founder and CPO of Veriff
"In today's digital age, friction is one of the largest pain points in the identity verification process for online users. If there's too much friction, you risk losing customers, so it's critical we make verification processes as painless as possible for the consumer," said Janer Gorohhov, co-founder and CPO of Veriff. "Not only does this partnership with Inverid open up an entirely new NFC-based user pool for Veriff, but it also helps further minimize the friction in our identity verification process by offering a larger selection of verification methods and documents for our customers based on their needs. We're thrilled to be partnering with Inverid in our shared mission of reducing identity fraud and creating safer online spaces."