Today (16 September) is Identity Day. Linking to UN Sustainable Development Goal 16.9: by 2030 provide legal identity for all including free birth registrations. At ReadID, we embrace Identity Day.
An identity is fundamental to human existence. Everybody has an identity, an intrinsic quality of life. Being able to verify, share, and grow identities creates value to that intrinsic quality. Digital identities are a cornerstone for this. Modern identity documents are a secure, decentralised, empowering form of digital identities: the chip inside them carries your digital identity, under your control.
Not every individual worldwide is in the position to get or keep such a document. Identity day underlines the fundamental right to have an identity, where chipped identity documents can be a crucial stepping stone.
Identity Day mentions three fundamentals in identity:
Inclusion - no one left behind;

Protection - identities should be secure and privacy protected

Empowerment - creating value from identities.
Let's have a look at how ReadID and digital identities contribute to these financials.
Inclusion
More and more countries are introducing chipped identity documents worldwide. Currently, more than 160 countries have passports with a contactless (NFC) chip — also called ePassports or biometric passports — which means that those passports can be read with ReadID.

Many countries also have identity cards and residence cards with the same ICAO-compliant chip. This number has continued to grow over the years, with adoption in Africa and Asia catching up quickly. Not only does this provide proof of identity to people, but it also stimulates safe travel and migration.
Protection
Identities can turn against their owner if not well protected. Identity fraud, account takeover, fake statements, and impersonation are all consequences of poorly protected identities. This risk scales with digitalisation. Identities should not be given into the hands of big tech. Individuals and identities must be intrinsically intertwined for safe travel, secure transactions, and personal integrity.
The digital identity inside identity documents is very well protected. It cannot be manipulated, copied, or used without your cooperation. Read more in our blog series on the security mechanisms of e-passports.
Empowerment
Digital identities inside electronic identity documents can be used for much more than travel. Our customers use them for secure onboarding of customers, creating trusted digital signatures, or making sure that your electronic wallet or banking app really belongs to you. We allow you to take your identity into the internet in a secure and trusted way.
Check your (digital) identity
Curious about what your digital identity looks like? If you have a passport, identity card or residence permit that is chipped (check for the chip logo on it), you can read and verify that document and check your identity with our app, ReadID Me.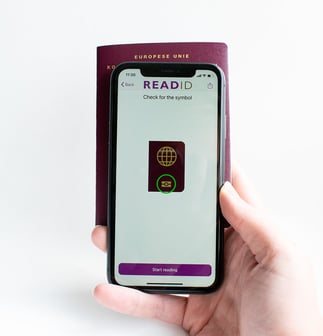 ReadID Me does not share or store your identity information. It simply is a means for you to check your government-issued digital identity.
Check it as a celebration of identity day!